New synthetic surface requires new Redexim RTC unit for Bishopsgate School
---
7 October 2020
New synthetic surface requires new Redexim RTC unit for Bishopsgate School
---
Bishopsgate School in Surrey have recently taken delivery of a Redexim RTC brush unit to keep on top of the maintenance of a brand new artificial surface, opened for use this September. With a high wear pattern of both pupil and community usage, the RTC will become the foundation of the ongoing maintenance programme – keeping the surface looking and playing at its best.
It has been a busy time for School Bursar Charlie Carver, not only overseeing the handover of the sand-dressed synthetic pitch, but also a brand-new indoor sports hall complex, completed at the end of August. "This new surface is going to be in use very heavily – not just for sports usage but also for break periods and, as such, we knew from the outset that we would need to keep a fairly rigorous maintenance schedule to keep it in the best possible condition" explains Charlie.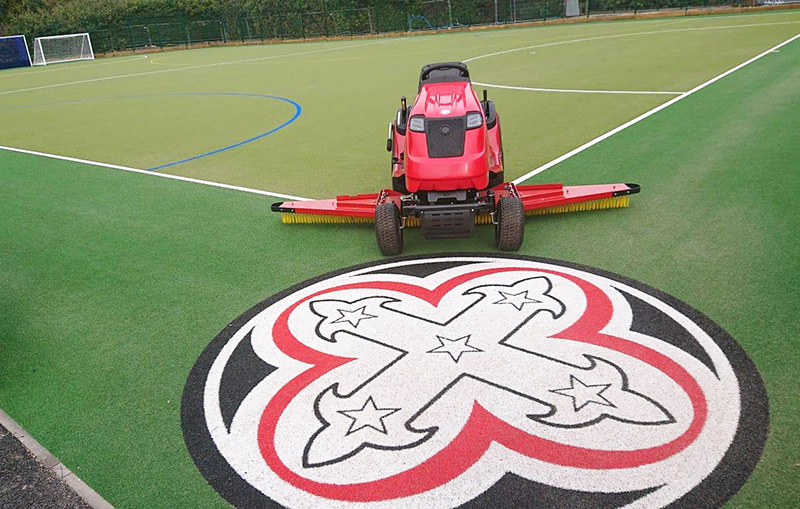 "We spoke to the installers, S&C Slatter, to get advice on maintenance equipment and they pointed us in the direction of Redexim and the RTC quickly became the ideal choice. As a dedicated, self-contained unit it means our on-site groundsman can drive it from the store onto the pitch and brush the entire surface in 30 minutes – fitting in quick, convenient maintenance during gaps in the timetable."
The RTC's tractor and brush combination gives the user complete control over the process and the pressure applied during operation. The brushes can be lifted to allow storage and access through gaps as narrow as 90cm, though when folded out the unit will cover an impressive 200cm in one pass. Charlie hopes that brushing the surface twice weekly with the RTC will maintain the play and aesthetic qualities and prevent the requirement for more invasive work further down the line.
"Our groundsman is delighted with it and uses the RTC as the foundation for all of the artificial programme – while brushing he will survey the surface, check seams and any high wear areas and if the surface needs any backfilling, then that can be done with the RTC also. It's going to be key to ensuring the safety and longevity of our install."